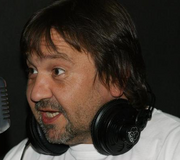 Cezary Kwieciński (born on March 31st, 1966) is a Polish actor who voices characters in the Polish narration of Thomas & Friends.
He is best known for voicing Johnny Quest from "The Real Adventures of Johnny Quest", Bert from "The Raccoons", Control Freak from "Teen Titans", The Blob from X-Men: Evolution", and Mandark from "Dexter's Laboratory".
Voices
Trivia
Ad blocker interference detected!
Wikia is a free-to-use site that makes money from advertising. We have a modified experience for viewers using ad blockers

Wikia is not accessible if you've made further modifications. Remove the custom ad blocker rule(s) and the page will load as expected.