"The trucks rattled and screamed!"
— The narrator, Cows, second season
Cattle Truck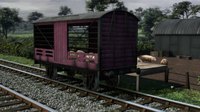 Cattle trucks, also known as Livestock wagons, are used to carry cows and other live stock; some even carry animals for the circus. A herd of cows once broke through a train of these being pulled by Edward.
They first appeared in the second season, and have made infrequent appearances since then.
Livery
Cattle trucks are painted brown, pink and blue with grey roofs, the latter wagons used for the transportation of chickens.
Trivia
In more recent seasons, the cattle trucks do not have faces.
From the second to the fifth season, the Cattle trucks were constructed out of Tenmille kits. These kits are still made today. From the sixth season onwards, all of the Cattle trucks were scratch built.
Sir Handel once insulted the coaches by calling them "Cattle Trucks".
Since the CGI Series, the cattle trucks design from the rear truck of Thomas' train from the eighth season episode Chickens to School replaced the original designs of the trucks. The original designs of the cattle trucks have not been seen since the eleventh season.
Merchandise
Gallery
Merchandise Gallery