Ad blocker interference detected!
Wikia is a free-to-use site that makes money from advertising. We have a modified experience for viewers using ad blockers

Wikia is not accessible if you've made further modifications. Remove the custom ad blocker rule(s) and the page will load as expected.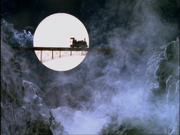 Cattle Creek is a stream that runs along the Skarloey Railway. It runs from Sodor Castle to Skarloey Lake. The Old Iron Bridge crosses it.
It first appeared in Duncan Gets Spooked. Another section of the Cattle Creek was featured in Rusty Saves the Day, in which Elizabeth help removed a fallen sycamore tree from the Cattle Creek during the dry season.
Gallery