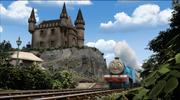 Castle Loch, also known as the Scottish Castle, Lord Callan's Castle, or just Callan Castle, is a Sodor landmark and castle situated east of Peel Godred on the Misty Valley Branch Line.
It was first seen in the seventh season where it was reopened to the public. It has become a popular tourist attraction and appeared often until the eleventh season. It returned to the series in CGI in the fifteenth season episode, Spencer the Grand and has made several appearances since. A causeway was also seen at the castle in the seventh season.
Trivia
Lord Callan flies the Scottish flag on days of ceremony.
The model of the castle is on display at Drayton Manor.
Merchandise
Gallery