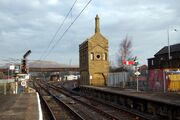 Carnforth is where the former London, Midland and Scottish Railway motive power depot was situated in Lancaster, Lancashire.
In 1967, the former motive power depot was preserved to become Steamtown Carnforth, which enabled mainline-certified steam engines to be based there between railtours. Sir William McAlpine (then the second owner of Flying Scotsman) was a shareholder in the company based at the depot. The museum owned a few former industrial shunting engines and three locomotive wrecks from Barry Scrapyard in South Wales.
In 1998, Steamtown Carnforth closed. But the former motive power depot is still in use under control of the West Coast Railway Company, which operates steam and Diesel railtours across Britain.
Carnforth was mentioned in Thomas and the Great Railway Show as Thomas stayed there overnight on his journey from Sodor to the National Railway Museum in York.
Gallery
Ad blocker interference detected!
Wikia is a free-to-use site that makes money from advertising. We have a modified experience for viewers using ad blockers

Wikia is not accessible if you've made further modifications. Remove the custom ad blocker rule(s) and the page will load as expected.