"Full steam ahead!"
— Captain's catch phrase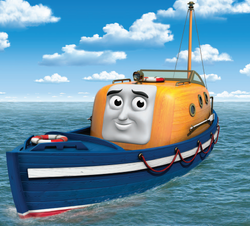 Captain
Captain is a brave wooden lifeboat. He is part of the Search and Rescue Team.
Persona
Captain is a lifeboat who resides at the Sodor Search and Rescue in his own small shed, ready, willing, and always on hand raring for action in case of an emergency. He can easily be dispatched from his shed by means of a slipway, but often resides in the small dock at the Search and Rescue Centre too. Being a lifeboat, Captain knows that duty may call out at sea to help and rescue anyone at any time. He takes this role seriously and is highly assertive, confident, and is unfazed in the face of daring, dangerous missions, but is not made ostentatious or egotistical by his important responsibilities. He is level-headed, always knows what has to be done, and shows good leadership skills.
Basis
Captain is an Ex-Royal National Lifeboat institution Liverpool Class Lifeboat.
Livery
Captain's cab is painted yellow, his sides, blue, and his hull, red. He's lined in white. He has a long, thin, yellow mast at the stern of his body.
Appearances
Season 14 - Henry's Health and Safety (cameo), Being Percy (cameo), Jumping Jobi Wood! (does not speak), and Merry Misty Island
Season 15 - Toby and Bash (cameo), Edward the Hero (cameo), James to the Rescue (cameo), Happy Hiro (cameo), Let it Snow (cameo), Stuck on You, and Fiery Flynn (cameo)
Season 16 - Race to the Rescue (cameo), Express Coming Through (does not speak), Welcome Stafford (cameo), and The Christmas Tree Express (cameo)

Specials:
Voice Actors
Quotes
"Batter me broadside!"
- Captain, after Butch knocks some metal pipes into the sea, Stuck on You, fifteenth season.
"Don't look at me, I only do rescues on water!"
- Captain, Toby to the Rescue, magazine story.
Merchandise
Gallery
Merchandise Gallery
See also