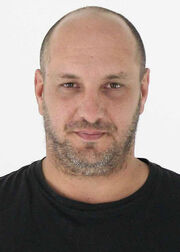 César Díaz Capilla is a Spanish voice actor who provides the voice of Thomas and Dash in the European Spanish version of the CGI Thomas & Friends seasons.
He is also well known for being the voice of Patrick Star in "SpongeBob SquarePants". He has also provided voices for Spanish dubs of various cartoons, animes, video games, and popular television shows including "Game of Thrones", "Breaking Bad", "Transformers: Prime", "Avatar: The Last Airbender", and "Inazuma Eleven".
Voices
Trivia
"Welcome to the Steamworks, my friend!"

This article is a stub. You can help by expanding it.
Ad blocker interference detected!
Wikia is a free-to-use site that makes money from advertising. We have a modified experience for viewers using ad blockers

Wikia is not accessible if you've made further modifications. Remove the custom ad blocker rule(s) and the page will load as expected.