"Look at that. A work of art!"
— Byron, A Happy Day for Percy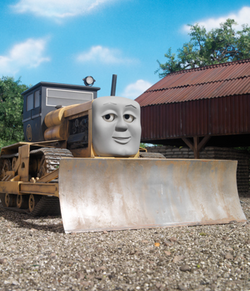 Byron
Number: 18
Built: Sometime between 1937 and 1939
Byron is a large bulldozer with a big blade. He carries out bulldozing work along with leveling the ground.
Bio
Byron told Jack to see Kelly when he was trying to help the other machines. He also once saved Alfie when he got stuck in thick mud.
Persona
Byron can be a bit pompous and loud, but likes to be useful. He is enthusiastic, reliable and wise.
Basis
Byron Is based on the Caterpillar D9 bulldozer from the late 1930's.
Livery
Byron is yellow with a black cab with a number 18 painted on the sides of his cab in yellow.
Appearances
He had a role in the cancelled episodes, Bossy Byron, The Importance of Being Patrick, and Jack and Alfie Swap. He was also very likely to appear in the cancelled Pack episode, No Dozer is an Island.
Byron also appeared in two ninth season music videos.
Voice Actors
Trivia
Byron is one of the machines whose silhouette is pictured on the Pack's logo.
Byron did not have his number in Robert Gauld-Galliers' original artwork.
Merchandise
Gallery
Merchandise Gallery