Byron
Talk

1
4,361pages on
this wiki
"Look at that. A work of art!"
— Byron, A Happy Day for Percy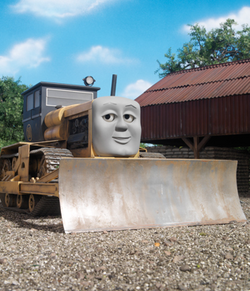 Byron
Byron is a large bulldozer with a big blade. He carries out bulldozing work along with leveling the ground.
Byron can be a bit pompous and loud, but likes to be useful, enthusiastic, reliable and wise.
Byron is yellow with a black cab with a number 18 painted on the sides of his cab in yellow.
Appearances
Edit
He was very likely to appear in the cancelled Pack episode, No Dozer is an Island.
Byron is one of the machines who's silhouette is pictured on the Pack's logo.
Merchandise
Edit