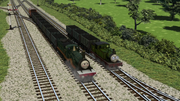 Buffers
are devices to prevent engines from going past the end of a physical section of track.
Buffers can occasionally break if an engine goes too fast and crashes into them. Thomas once damaged his front by charging towards the buffers while showing off his race with Bertie to Jinty (Oliver in the TV series) and Percy broke two different sets of buffers, one of which led him into a pile of coal. Donald and Douglas also had their own mishaps with a set of buffers they kept on crashing into, one of which the latter was unfairly blamed for.
Sometimes, if a siding has no buffers for the line to end on, serious accidents will occur, such as when Thomas crashed into a stationmasters house when the siding he was on had no buffers to stop him.
Trivia
Gallery