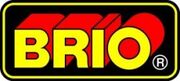 Brio is a wooden train line who once made Thomas the Tank Engine and Friends toys compatible with Wooden Railway in the 1990s. The range was discontinued in 2000.
Engines
Rolling Stock
Non-Rail Vehicles
Human characters
Destinations
Sets
Thomas Set #1 (with Thomas and The Fat Controller)
Thomas Set #2 (with Thomas, Troublesome Truck and The Fat Controller)
Thomas, Annie, and Clarabel Set
Island of Sodor Playmat
Trivia
There were two versions of Duck available; one with green wheels and one with black wheels.
Sir Handel's model is given an 0-4-0 wheel arrangement.
Some BRIO Thomas items are more accurate compared to their Learning Curve counterparts.
Oliver, Skarloey and Peter Sam's models are given 0-6-0 wheel arrangements.
The BRIO battery-powered Thomas' model has a front magnet, unlike his Learning Curve counterpart.
Gordon is depicted as an 4-6-0.
Diesel 10 has a magnet on a string instead of Pinchy.
Splatter and Dodge have light grey wheels.
The windmill looks a lot like Toby's windmill, despite the fact it was released years before the episode premiered.
Butch's BRIO model came out one year before his Learning Curve model.
Toby's face on his BRIO model appears to have been modelled after Mavis', despite the fact that Mavis never had her own BRIO model.
The BRIO models of Henry, Gordon, and Duke have a hook that connects them to their tenders, but James and Edward use a magnet.
Diesel 10's BRIO model's arm is similar to that of a crane's arm, as it can move up, down, sideways, and even extend. The claw has a magnet in it to lift cargo, and is tethered to a string.
Gallery