Brendam
Talk

5
4,955pages on
this wiki
Brendam
is a town with a population of 5,000. It is the top station for
Edward's Branch Line
and an important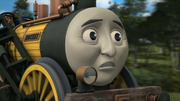 harbour.
Bill and Ben
bring china clay from the nearby
China Clay Workings
, and it is shipped to the mainland.
The Sodor China Clay Company, established in 1948, occasionally hosts days when enthusiasts may look around. Bill and Ben particularly enjoy the attention these visitors give them.
Brendam is also home to Cranky, who always loads and unloads cargo to and from the dock, Porter, who is a new tank engine, and Salty, who loves to work at the Docks and tell tales of the sea.
In the television series, a coastal branch line runs from the port, and is mainly used for fish traffic. It also appears that the express stops here on its way to Vicarstown, to collect passengers from the many ocean liners that come in here. The mail barge also docks here. The docks here are large and extensive, with many warehouses, cranes, rail yards and canals.
Trivia
The Sodor Shipping Company has at least one large warehouse here.
It is often misspelt "Brendham", particularly in merchandise and in the subtitles of DVDs.
Since the thirteenth season, there is no longer ballast under the rails at Brendam.
Since the seventeenth season, there are points near Cranky so the engines can switch tracks.
Brendam Docks are based on a mish-mash of different docks from the 1940s England, including Gloucester, Liverpool, and London
Merchandise
Gallery
Merchandise Gallery