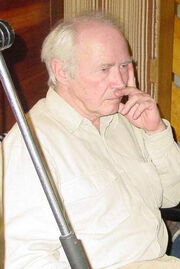 Bohuslav Kalva (born 26 March 1940 in Prague, Czechoslovakia) is a Czech actor who currently narrates Thomas & Friends in the Czech Republic. He has narrated the series since the fourth season. He also voices Dr. Hibbert in The Simpsons.
Trivia
He, Radovan Vaculík, Ringo Starr, Carlos Enrique Bonilla, Jorge Ornelas, Enzo Avolio, Víctor Delgado, Daiki Nakamura, Aku Laitinen, Marjolein Algera, Jukka Voutilaninen, Shinobu Adachi, Pasi Ruohonen, Loretta Santini, Olga Hnidey, Don Nemitz, Bin Shimada, Reinder van der Naalt, Ángel Amorós, Gerardo Reyero, Luis Alfonso Padilla, Octavio Rojas, Louise Raeder, Humberto Vélez, Hadar Shachaf Ma'ayan, Chie Kōjiro, Samuel Harjanne, Keiko Toda, Pierce Brosnan, George Carlin, Alec Baldwin and Nicolás Frías all worked on "The Simpsons".
"Welcome to the Steamworks, my friend!"

This article is a stub. You can help by expanding it.
Ad blocker interference detected!
Wikia is a free-to-use site that makes money from advertising. We have a modified experience for viewers using ad blockers

Wikia is not accessible if you've made further modifications. Remove the custom ad blocker rule(s) and the page will load as expected.