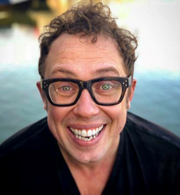 Bob Golding (born August 17, 1970 in Cambridge, England, UK) is a British actor who joined the voice cast of Thomas & Friends in King of the Railway.
Other credits include "Tweenies", "Mike the Knight", "Yo Gabba Gabba!", "Numberjacks", "Dennis the Menace", "Noddy in Toyland", and "EastEnders". In 2009, he appeared on stage in an Eric Morecambe tribute act titled "Morecambe" which toured the UK the following year.
Voices
UK/US
Songs
Filmography
Films

Tommy Cooper: Not Like That, Like This (2014)

Television

Fun Song Factory (1998)
Tweenies (1999-2002)
Numberjacks (2007)
The Beeps (2007-2008)
Harry and Toto (2008)
Dennis & Gnasher (2009)
Noddy in Toyland (2009)
Fleabag Monkeyface (2011)
Mike the Knight (2011)
Watson & Oliver (2012)
Diddy Movies (2012)
Mr Selfridge (2013)
Thomas & Friends (2013-present)
EastEnders (2013)
The Slammer (2013)
Dinopaws (2014)
Trying Again (2014)
Miffy's Adventures Big and Small (2015)
Thunderbirds Are Go (2015)
Noddy, Toyland Detective (2016-2017)
Hetty Feather (2015-2016)
Trivia
External Links
Ad blocker interference detected!
Wikia is a free-to-use site that makes money from advertising. We have a modified experience for viewers using ad blockers

Wikia is not accessible if you've made further modifications. Remove the custom ad blocker rule(s) and the page will load as expected.