Bluff's Cove
Comments

0
5,556pages on
this wiki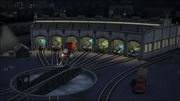 Bluff's Cove is a seaside station between Haultraugh and Arlesburgh West on Duck's Branch Line which serves both a beach and a school. It has appeared in the ninth, tenth, thirteenth, fifteenth, sixteenth and eighteenth seasons.
Trivia
This is where the Sodor Warbler resides.
There are two warning signs by the station platform. The red sign says "Trespassers will be Prosecuted", while the green sign says "Passengers must NOT pass this point".
One of the posters is Thomas crossing a bridge, seen from the opening of Hero of the Rails.
Since the Thirteenth season, a poster of Emily at Black Loch from the eighth season episode, Emily's New Route is seen on the bulletin board.
Gallery