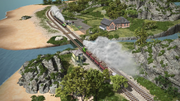 Bluff's Cove is a small seaside station between Haultraugh and Arlesburgh West on Duck's Branch Line, and is the terminus of Toby's Branch Line, which serves both a beach and a school.
A whale was stranded there when Oliver and Toad passed the beach.
Bluff's Cove first appeared in the ninth season and has appeared in every season since, except for the eleventh, twelfth, fourteenth and seventeenth.
Trivia
Ad blocker interference detected!
Wikia is a free-to-use site that makes money from advertising. We have a modified experience for viewers using ad blockers

Wikia is not accessible if you've made further modifications. Remove the custom ad blocker rule(s) and the page will load as expected.