Blue Mountain Quarry
Comments

3
5,463pages on
this wiki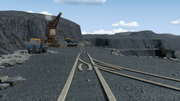 Blue Mountain Quarry is a quarry that made its first appearance in Blue Mountain Mystery. Merrick and Owen are based here. Skarloey, Rheneas, Sir Handel, Peter Sam, Rusty, Luke, Paxton (as well as Thomas, Henry, Toby and Spencer on some occasions), and many other vehicles work here. Blondin Bridge is also located here. To access the quarry, engines have to switch at Abbey.
It has replaced the Skarloey Railway Slate Quarry.
Since the seventeenth season, the standard gauge track to the quarry has become dual gauge to accommodate the narrow gauge engines.
Merchandise
Gallery
Merchandise Gallery