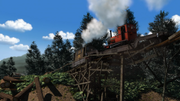 Blue Mountain Quarry is a quarry that made its first appearance in Blue Mountain Mystery. Merrick and Owen are based here. Skarloey, Rheneas, Sir Handel, Peter Sam, Rusty, Luke, and many other vehicles work here. Many standard gauge engines have been known to work here, most frequently, Paxton. Blondin Bridge is also located here.
The quarry is located at the north bottom of Shane Dooiney. To access the quarry, standard gauge engines have to switch near Whiff's Waste Dump onto the Quarry Branch Line.
It has replaced the Skarloey Railway Slate Quarry.
Since the seventeenth season, the standard gauge track to the quarry became dual gauge to accommodate the narrow gauge engines.
Merchandise
Gallery
Merchandise Gallery