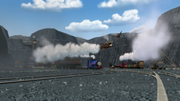 Blondin Bridge is a bridge above the Blue Mountain Quarry that collapsed whilst Rheneas was travelling over it. Paxton had to be repaired as a result of bricks landing on and damaging him. It was repaired by the end of Blue Mountain Mystery.
Trivia
Blondin Bridge received its name due to the fact that it spans over an aerial ropeway system which carries slabs of slate, known as a "blondin," which was in turn named after the French tightrope walker, Charles Blondin.
Blondin Bridge is a pun on the nursery rhyme, "London Bridge is Falling Down."
Merchandise
Gallery
Ad blocker interference detected!
Wikia is a free-to-use site that makes money from advertising. We have a modified experience for viewers using ad blockers

Wikia is not accessible if you've made further modifications. Remove the custom ad blocker rule(s) and the page will load as expected.