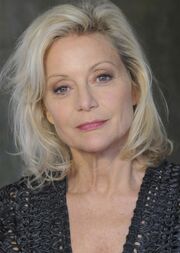 Blanche Ravalec (born 1954) is a French actress and voice actress who narrated the French version of Thomas & Friends from the sixth to fifteenth seasons, although she continued for the home video releases until halfway through the seventeenth season.
She is best known for appearing in the James Bond film "Moonraker" and has appeared in over seventy French films. She also provides the French dubbing for many shows, like "Reboot", "Sabrina, the Teenage Witch", "Angelina Ballerina", "Futurama", "Ugly Betty", "Desperate Housewives", "Once Upon a Time" and "Friends". She is also the official voice-over for Marcia Cross.
Even though she stepped down as narrator after the fifteenth season, she is still voicing characters in the show.
Voices
Trivia
Ad blocker interference detected!
Wikia is a free-to-use site that makes money from advertising. We have a modified experience for viewers using ad blockers

Wikia is not accessible if you've made further modifications. Remove the custom ad blocker rule(s) and the page will load as expected.