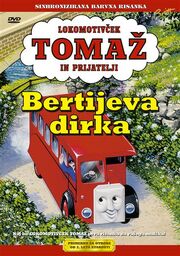 Bertie's Race is a Slovenian DVD featuring first and second season episodes narrated by Vladimir Jurc.
Description
How did Thomas fall in a mine? Why did Gordon derail? Who leads the race? What happens to the cows? In what relation are Thomas, Percy and coal? Answers to these questions and a few other cute cartoons can be found on the DVD.
Episodes
Ad blocker interference detected!
Wikia is a free-to-use site that makes money from advertising. We have a modified experience for viewers using ad blockers

Wikia is not accessible if you've made further modifications. Remove the custom ad blocker rule(s) and the page will load as expected.