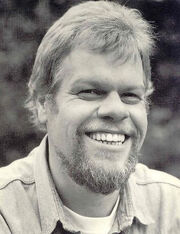 Ben Hecker (born on 30th August 1948 in Köln as Bernhard Hecker) is a German actor and voice actor who provided a voice for the German audio books of Thomas and Friends.
Voices
'Arry (Audio Book 11 only)
Trivia
He, Achim Schülke, Michael Bideller, Konstantin Graudus, Eckart Dux, Michael Weckler, Klaus Dittmann, Eberhard Haar, Renate Pichler, Sascha Draeger, Helgo Liebig, Erik Schäffler, Lutz Harder, Holger Potzern, Gerhart Hinze, Jörg Gillner, Holger Mahlich, Douglas Welbat, Angela Quast, Christian Stark, Andreas von der Meden, Jürgen Holdorf and Katja Brügger provided voices in "The Animated Batman Series".
He and Norbert Gescher had roles in the "Garfield" movie.
Ad blocker interference detected!
Wikia is a free-to-use site that makes money from advertising. We have a modified experience for viewers using ad blockers

Wikia is not accessible if you've made further modifications. Remove the custom ad blocker rule(s) and the page will load as expected.