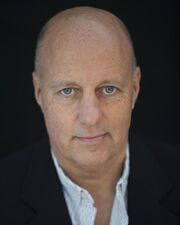 Ben Forster (1958 - 2 January 2017) was an English actor who played Mr. Perkins between the episodes on CGI series DVDs and on Thomas' YouTube World Tour.
He has had various minor roles on British television, but his most recent role was as a deliveryman in BBC's comedy series "Miranda", in 2010. He has been in various television shows including "The Bill", "The Molly Wopsies", "Doctors", "Casualty", "Heartbeat", "The Office", "The Basil Brush Show", "My Parents are Aliens" and "Family Affairs".
He died on 2nd January 2017 at the age of 59, following a battle with cancer.
Trivia
Gallery
Links
Ad blocker interference detected!
Wikia is a free-to-use site that makes money from advertising. We have a modified experience for viewers using ad blockers

Wikia is not accessible if you've made further modifications. Remove the custom ad blocker rule(s) and the page will load as expected.