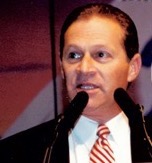 Barry London (born in 1948) is an American film producer and film executive.
He served as Vice Chairman of Paramount Pictures and Chairman and President of marketing and distribution for Destination Films. He was also an executive producer for Thomas and the Magic Railroad.
He worked for Paramount Pictures from 1971 until 1996 and joined Destination Films in 1998.
"Welcome to the Steamworks, my friend!"

This article is a stub. You can help by expanding it.