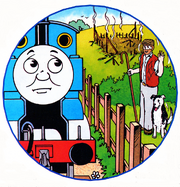 Barleycorn Farm is located somewhere out in the countryside and is one of Thomas' favourite places to visit. It may be situated along his branch line.
Thomas is good friends with the old shepherd who works at the farm. Once, a barn on the farm ground caught fire, but the shepherd is pleased as it is an old building and he wanted to put up a new barn anyway.
Barleycorn Farm is only seen in the 1997 magazine story, Red Sky at Night!.
"Welcome to the Steamworks, my friend!"

This article is a stub. You can help by expanding it.
Ad blocker interference detected!
Wikia is a free-to-use site that makes money from advertising. We have a modified experience for viewers using ad blockers

Wikia is not accessible if you've made further modifications. Remove the custom ad blocker rule(s) and the page will load as expected.