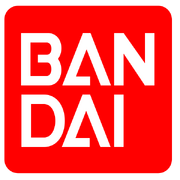 Bandai (Japanese: バンダイ) is a Japanese toy company that has made the following Thomas & Friends toy ranges:
It also manufactured the DVD I Love Thomas DVD Collection and the Games Riding on the Thomas the Tank Engine, Let's Do it Together Thomas the Tank Engine, Unten Thomas Deluxe Set, a kids station game and a Game Boy Color game.
External Links
Ad blocker interference detected!
Wikia is a free-to-use site that makes money from advertising. We have a modified experience for viewers using ad blockers

Wikia is not accessible if you've made further modifications. Remove the custom ad blocker rule(s) and the page will load as expected.