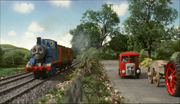 Balladrine is a small village about seventeen kilometres north west of Kellsthorpe and about five miles south east of Killdane. It is located on the Main Line. 
In the television series the village has a railway station which only appeared in the seventh season.
Near the station is the bridge where Gordon and Henry came across Bluebell the cow, in the second season episode, Cows.
The station building looks similar to Dryaw station.
Ad blocker interference detected!
Wikia is a free-to-use site that makes money from advertising. We have a modified experience for viewers using ad blockers

Wikia is not accessible if you've made further modifications. Remove the custom ad blocker rule(s) and the page will load as expected.