"I know what a jubilee is. It's an engine called Bahamas. I met him at Crewe."
―Henry, Thomas and the Fat Controller's Engines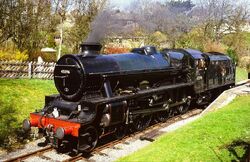 Bahamas
Number: 45596, formerly 5596
Class: LMS Jubilee Class
Designer: William Stanier
Builder: North British Locomotive Company
Built: 1935
Withdrawn: July 1966
Configuration: 4-6-0
Bahamas is a preserved British steam locomotive.
History
5596 was built in 1935 by the North British Locomotive Company in Glasgow. He was named Bahamas in 1936 after the Bahamas, which were then part of the British Empire. After nationalisation in 1948, Bahamas was renumbered by British Railways to 45596 and transferred to Edge Hill, Liverpool.
In 1961, he was usually fitted with a double blastpipe and chimney, and was returned to traffic and based at Carlisle. He was transferred to Stockport in July 1962, from which he was withdrawn from traffic in July 1966.
Now based at the Keighley and Worth Valley Railway, he is owned by the Bahamas Locomotive Society. Until the end of 2012, Bahamas was on loan to the National Railway Museum in York as a display inside the Great Hall, after taking part in the NRM's Railfest. Having raised funds for his next overhaul, the society is planning a special farewell event for Bahamas on May 18th, 2013 at Ingrow station prior to dismantling their engine for overhaul. 2017 is the target for Bahamas' overhaul to be completed.
Bio in the Railway Series
Henry mentioned that he met Bahamas at Crewe during his overhaul in Thomas and the Fat Controller's Engines.
Appearance
Ad blocker interference detected!
Wikia is a free-to-use site that makes money from advertising. We have a modified experience for viewers using ad blockers

Wikia is not accessible if you've made further modifications. Remove the custom ad blocker rule(s) and the page will load as expected.