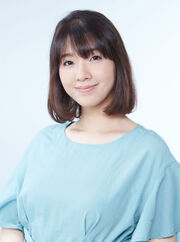 Ayumi Tsunematsu (恒松 あゆみ, born on September 26th, 1981 in Hyōgo Prefecture) is a Japanese voice actress who provided voices for Hashire! The "Thomas the Tank Engine and Friends" Steam Locomotive is Alive!.
She is most famous for voicing Dr. Lee from "Hunter x Hunter", Marina Ismali from "Mobile Suit Gundam 00", Talia al Ghul from "Batman: The Brave and the Bold", Lukkage from "Gargantia on the Verdurous Planet", Matt and Ciao from "Zoids Fuzors", Takako Yajima from "Un-Go", Mexiah Flan and Neizai from "Tenchi Muyo! War on Geminar", and Jewel from the "Rio" films.
Voices
Trivia
External links
Ad blocker interference detected!
Wikia is a free-to-use site that makes money from advertising. We have a modified experience for viewers using ad blockers

Wikia is not accessible if you've made further modifications. Remove the custom ad blocker rule(s) and the page will load as expected.