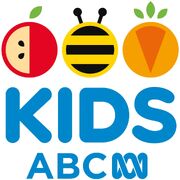 The Australian Broadcasting Corporation is the primary broadcaster of Thomas & Friends in Australia. Recent seasons are broadcast as part of the ABC Kids block on ABC2. Thomas was also shown on ABC1 prior to the CGI switchover.
ABC broadcasts many other children's shows, including other HiT Entertainment properties.
ABC has distributed Thomas and Friends on VHS, DVD and Blu-ray in Australia under the ABC for Kids name since 1991, when they took over from Festival Records.
VHS Releases
DVD Releases
Episodic Releases
My First Thomas Series
The Complete Series Collections

Twin Packs
Series One and Two Double Pack
Series Three and Four Double Pack
Series Five and Six Double Pack
Series Seven and Eight Double Pack
Series Nine and Ten Double Pack
Series Eleven and Twelve Double Pack
Boxsets
Classic Collection: Series 1 - 5 (5 Disc Boxset)
Movies and Feature-Length Specials
Twin Packs and Boxsets
Hero of the Rails and Misty Island Rescue
Misty Island Rescue and Day of the Diesels
Movie Specials

(

4-Discs; coming soon

)
Blu-ray Releases
Misty Island Rescue
Day of the Diesels
VHS Gallery
DVD Gallery
Blu-ray Gallery