Ad blocker interference detected!
Wikia is a free-to-use site that makes money from advertising. We have a modified experience for viewers using ad blockers

Wikia is not accessible if you've made further modifications. Remove the custom ad blocker rule(s) and the page will load as expected.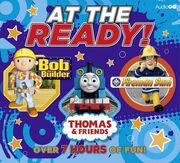 At the Ready! is an audiobook boxset released by AudioGO containing six CD's including two previous Railway Stories volumes; the boxset was first released as a TK-Maxx exclusive, and was released in wider stores from October 1st, 2013.
Volumes
Bob the Builder: Bob's Big Plan and other stories
Bob the Builder: Off Road Scrambler and other stories
Fireman Sam: Paper Plane Down and other stories
Fireman Sam: Hearts on Fire and other stories