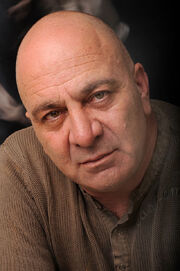 Aryeh Cherner (Hebrew: אריה צ'רנר, born March 6th, 1957) is an Israeli actor and voiceover artist who provided voices for the Hebrew dub of Thomas and the Magic Railroad.
He is best known for being the second voice of Rubeus Hagrid in the "Harry Potter" film series, Sheriff from "Cars", Zuba from "Madagascar: Escape 2 Africa", Buck Cluck from "Chicken Little", Gusteau from "Ratatouille", and Doris from the "Shrek" films.
Voices
Trivia
Both he and Jon Kabira voiced Doris from the "Shrek" films in their respective languages.
Both he and Blas García voiced Rubeus Hagrid from the "Harry Potter" films in their respective languages.

Geneviève Déry, Robert Wilfort, Rolando de Castro, Claes Ljungmark, Leyla Rangel, Ruth Toscano, Nathan Clarke, Simon Fisher-Becker, César Izaguirre, César Árias, Katsuji Mori, Yigal Mizrachi, Hideyuki Umezu, José Luis Orozco, Jesse Grimm, Zuzanna Galia, Ángel Amorós, Tokuyoshi Kawashima, Octavio Rojas, Scott Maurstad, John Hurt, Humberto Vélez, Jorge Santos, Irwin Daayán, Masashi Ebara, Dov Reiser, Albert Cohen, Hadar Shachaf Ma'ayan, Zvika Schwartzberg, Jamie Campbell Bower, Thomas Fritsch, Norma Iturbe and Rob Rackstraw have also starred in the "Harry Potter" films. Angela Kyriacou and Eddie Redmayne also had roles in it's prequel "Fantastic Beasts and Where To Find Them".
Ad blocker interference detected!
Wikia is a free-to-use site that makes money from advertising. We have a modified experience for viewers using ad blockers

Wikia is not accessible if you've made further modifications. Remove the custom ad blocker rule(s) and the page will load as expected.