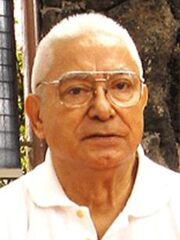 Armando Réndiz (born September 22nd, 1937) is a Mexican voice actor who provides voices in the Latin American narration of Thomas & Friends.
He is best known for voicing Maurice in the "Madagascar" films, Pops in "Johnny Bravo", Megatron from "Transformers: Beast Machines", Mushin from "InuYasha", Zile Zazic from "Speed Racer: The Next Generation", Finis Everglot from "Tim Burton's Corpse Bride", Doctor Octopus from "Spider-Man: The Animated Series", Papa Smurf from "The Smurfs" films, and Colonel Victor Hoffman from the "Gears of War" game series.
Voices
Trivia
Ad blocker interference detected!
Wikia is a free-to-use site that makes money from advertising. We have a modified experience for viewers using ad blockers

Wikia is not accessible if you've made further modifications. Remove the custom ad blocker rule(s) and the page will load as expected.