"Real?! Of course we're real! We bring all the ballast to put under your track!"
"And wool for making clothes."
"And passengers too!"
— Mike, Bert and Rex, Sodor's Legend of the Lost Treasure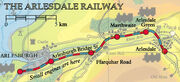 The
Arlesdale Railway
, also called the
"Small Railway"
, is a 15"-gauge railway running from
Arlesburgh
along the old route of the
Mid Sodor Railway
to
Arlesdale
. At Arlesburgh, connections can be made between it and the
Arlesburgh branch
. The line is mainly used to transport waste materials from several of the abandoned mines at Arlesdale for use as ballast, but it also attracts popularity due to the novelty of being pulled by a 1/3 scale engine.
Locomotives