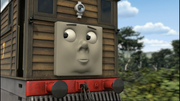 Arlesdale End was originally the top station of Toby's old tramway in the television series. However, in more recent seasons, it has become part of the North Western Railway and Toby now lives here.
Toby's Shed is located here.
Arlesdale End first appeared in the first season and appeared quite regularly between the tenth and twelfth seasons. It also appeared in full CGI in the fifteenth season episode, Toby and Bash. After the fifteenth season, the station did not appear again.
In the television series, Arlesdale End is situated on the quarry tramroad north of Anopha Quarry.
It is not to be confused with Arlesdale.
Trivia
Merchandise
Ad blocker interference detected!
Wikia is a free-to-use site that makes money from advertising. We have a modified experience for viewers using ad blockers

Wikia is not accessible if you've made further modifications. Remove the custom ad blocker rule(s) and the page will load as expected.