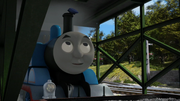 Arlesburgh Yard is a small yard that was originally a construction yard when the Harwick Branch Line was being built, and was also where supplies for the construction of the Harwick Branch Line was stored. The grand opening of the branch line also happened at this yard. Calles Cavern is located nearby.
Several engines and vehicles worked at the construction yard during construction of the branch line, but the most prominent ones were Marion, Jack, Alfie, Oliver, Max, Monty, Duck, Ryan, Thomas, Stanley, Donald and Douglas.
After the construction was completed it was turned in a shunting yard, and sheds for Ryan and Daisy were built afterwards. It was first introduced in Sodor's Legend of the Lost Treasure while the Harwick Branch Line was in construction. However, it was not completely finished until the twentieth season.
Judy and Jerome are also based here.
Ad blocker interference detected!
Wikia is a free-to-use site that makes money from advertising. We have a modified experience for viewers using ad blockers

Wikia is not accessible if you've made further modifications. Remove the custom ad blocker rule(s) and the page will load as expected.