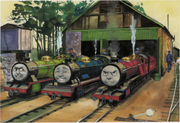 Arlesburgh West Shed is a shed on the Arlesdale Railway. Frank once crashed in back of the shed, resulting in the Small Controller making inspections to ensure the shed was safe.
There are like 3 sheds on Arlesburgh West, the one seen in the stories is the steam engine sheds. There's also a shed for the diesels on the opposite side of the line, along the new Carriage Shed for all passenger stock under cover.
It only appeared in three Railway Series books, Small Railway Engines, Duke the Lost Engine and Jock the New Engine. It later made it's first television series appearance in the twentieth season.
Gallery
Ad blocker interference detected!
Wikia is a free-to-use site that makes money from advertising. We have a modified experience for viewers using ad blockers

Wikia is not accessible if you've made further modifications. Remove the custom ad blocker rule(s) and the page will load as expected.