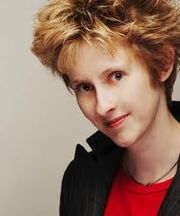 Anna Starkey is a British actress, writer, producer and voice director who was an episode writer for Thomas and Friends. She worked with HiT Entertainment as a script editor on three series: "Pingu", "Rubbadubbers", and "Angelina Ballerina". She left HiT Entertainment in 2005 to become a freelance writer. She found work on the BBC's children's show "Charlie and Lola" as a script editor and voice-director. She briefly returned to HiT to write one episode for Thomas and Friends. She also works as a stand-up comedian.
Episodes
Trivia
External links
Ad blocker interference detected!
Wikia is a free-to-use site that makes money from advertising. We have a modified experience for viewers using ad blockers

Wikia is not accessible if you've made further modifications. Remove the custom ad blocker rule(s) and the page will load as expected.