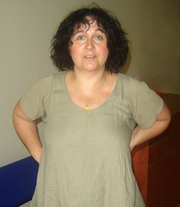 Anna Apostolakis (born 7 January 1960 in Warsaw) is a Polish voice actress who provides voices for the Polish dub of Thomas & Friends. She also took over the direction of the Polish dub starting from Season 18 after Paweł Galia around that time stopped being a dubbing director in Start International Poland (which has been making the Polish dub since Season 13) and started directing dubs at SDI Media Poland.
She is best known for voicing Rufus from "Kim Possible", Applejack from "My Little Pony: Friendship is Magic" (pilot dub only), Bijou from "Hamtaro", the title character of "Chowder", Rick from "Camp Candy", various characters from "The Grim Adventures of Billy & Mandy", May Kanker from "Ed Edd n' Eddy", Override from "Transformers: Cybertron", Jean Grey/Phoenix from "X-Men: The Animated Series", Ororo Munro/Storm from "X-Men Evolution", and Olwin from "Chuggington".
Voices
Trivia
Both she and Susan Roman voiced Tika from "Barbie as the Island Princess" in their respective languages. Salty's Lighthouse voice actors Ian James Corlett, Terry Klassen and Gary Chalk also worked on it. There have also been several other voice actors that have worked on several other Barbie films:
Both she and Shinobu Adachi voiced Jean Grey/Phoenix from "X-Men: The Animated Series" in their respective languages.
Both she and Noriko Shitaya voiced Moegi from "Naruto" in their respective languages.
She and Anna Gajewska were both on the Polish version of "Kim Possible".
Ad blocker interference detected!
Wikia is a free-to-use site that makes money from advertising. We have a modified experience for viewers using ad blockers

Wikia is not accessible if you've made further modifications. Remove the custom ad blocker rule(s) and the page will load as expected.