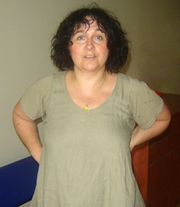 Anna Apostolakis (born 7 January 1960 in Warsaw) is a Polish voice actress who provides voices for the Polish dub of Thomas & Friends. She also took over the direction of the Polish dub starting from Season 18 after Paweł Galia around that time stopped being a dubbing director in Start International Poland (which has been making the Polish dub since Season 13) and started directing dubs at SDI Media Poland.
She is best known for voicing Rufus from "Kim Possible", Applejack from "My Little Pony: Friendship is Magic" (pilot dub only), Bijou from "Hamtaro", the title character of "Chowder", Rick from "Camp Candy", various characters from "The Grim Adventures of Billy & Mandy", May Kanker from "Ed Edd n' Eddy", Override from "Transformers: Cybertron", Jean Grey/Phoenix from "X-Men: The Animated Series", Ororo Munro/Storm from "X-Men Evolution", and Olwin from "Chuggington".
Voices
Trivia
Both she and Susan Roman voiced Tika from "Barbie as the Island Princess" in their respective languages. Salty's Lighthouse voice actors Ian James Corlett, Terry Klassen and Gary Chalk also worked on it. There have also been several other voice actors that have worked on several other Barbie films:
Both she and Shinobu Adachi voiced Jean Grey/Phoenix from "X-Men: The Animated Series" in their respective languages.
Both she and Noriko Shitaya voiced Moegi from "Naruto" in their respective languages.
She and Anna Gajewska were both on the Polish version of "Kim Possible".
She, Analiz Sánchez, Mikołaj Klimek, Héctor Moreno, Enrique Cervantes, Susana Moreno, Michał Podsiadło, Claudia Motta, Javier Olguín, Simen Sand, Klaudiusz Kaufmann, Justyna Bojczuk, Anna Gajewska, Ricardo Silva, Carlos Hernández, Ewa Serwa, Loretta Santini, Irina Índigo, Zbigniew Konopka, Isabel Romo, Raúl Solo, Zuzanna Galia, Kim Seung-jun, Grzegorz Kwiecień, Jacek Król, Benedikte Kruse, Eduardo Fonseca, Annie Rojas, Sergio Morel, Elsa Covián, Julia Kołakowska-Bytner, Susa Saukko, Kenta Miyake, Joanna Pach-Żbikowska, Moisés Iván Mora, Mia Kadosh, Masashi Ebara, Igor Cruz, Norma Iturbe, Petri Hanttu, Hiroshi Iwasaki, Tiril Heide-Steen, Przemysław Stippa, Markus Bäckman, Leszek Zduń, Janusz Wituch, Talya Barkay, Edson Matus, Paweł Szczesny, Gerald Schaale, Leyla Rangel, Piotr Bajtlik and Tesshō Genda have all starred in "My Little Pony: Friendship is Magic".