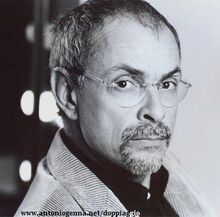 Angelo Maggi Mariotti (born in Rome on 16 December 1955) is an Italian actor, voice actor and voice acting director. He narrated the first five seasons in the Italian dub of Thomas & Friends.
He is the Italian voice of several actors like Tom Hanks and Bruce Willis. He also replaced Enzo Avolio as Chief Wiggum from The Simpson.
"Welcome to the Steamworks, my friend!"

This article is a stub. You can help by expanding it.
Ad blocker interference detected!
Wikia is a free-to-use site that makes money from advertising. We have a modified experience for viewers using ad blockers

Wikia is not accessible if you've made further modifications. Remove the custom ad blocker rule(s) and the page will load as expected.