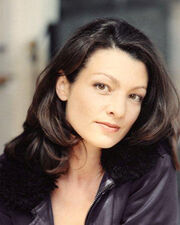 Angela Quast (born in 1965 in Hamburg) is a German actress who provides voices for the German dub of Thomas & Friends.
She is best known for voicing Rosita from "Sesame Street", the title character Mona Parker from "Mona the Vampire", Eliza from "The Wild Thornberrys", the title character in "Tutenstein", Haku from "Naruto" and "Naruto: Shippuden", Red Claw from "Batman: The Animated Series" and Tommy Pickles from "Rugrats". She is also well known for her acting in other television shows and theatre, such as "Big City Beat", "Delta Team", "No Budget", "The Hunt for the Death", "The Judgment", "Coast Guard" and "Zurich Engagement".
Voices
Trivia
External link
Ad blocker interference detected!
Wikia is a free-to-use site that makes money from advertising. We have a modified experience for viewers using ad blockers

Wikia is not accessible if you've made further modifications. Remove the custom ad blocker rule(s) and the page will load as expected.