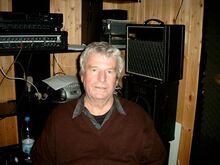 Andreas von der Meden (born on 10th January 1943 in Hamburg, died on 4th May 2017 in Berlin) was a German voice actor who provided voices for the German audio books of Thomas and Friends.
He was well known for voicing over of David Hasselhoff, Steve Whitmire, Richard Pryor, Jim Henson, Sammo Hung Kam-Bo and Brad Dourif.
He died on the 4th May 2017 at the age of 74.
Voices
Toby (Audio Book 7 onwards)
Trivia
Ad blocker interference detected!
Wikia is a free-to-use site that makes money from advertising. We have a modified experience for viewers using ad blockers

Wikia is not accessible if you've made further modifications. Remove the custom ad blocker rule(s) and the page will load as expected.