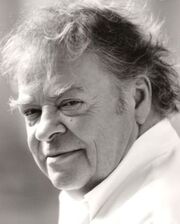 Andreas Mannkopff (born May 17th, 1939 - October 9th, 2015) was a German actor who voiced a character in the German dub of Thomas and the Magic Railroad.
He was most famous for acting in various German films and television shows such as Jess Franco's "Jack the Ripper" and "Jack Holborn". He is also known for voicing Garfield on "Garfield and Friends", Timothy Mouse from "Dumbo", Dachsie from "Lady and the Tramp", Itchy Itchiford from "All Dogs Go to Heaven", Fenton Crackshell/Gizmoduck from "DuckTales" and Lew Zealand from "The Muppets".
He passed away in Berlin on October 9th, 2015 at the age of 76.
Voices
Ad blocker interference detected!
Wikia is a free-to-use site that makes money from advertising. We have a modified experience for viewers using ad blockers

Wikia is not accessible if you've made further modifications. Remove the custom ad blocker rule(s) and the page will load as expected.