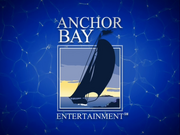 Anchor Bay Entertainment distributed US VHS and DVD releases for the Thomas the Tank Engine and Friends series in conjunction with Gullane Entertainment and Britt Allcroft. Lionsgate took over this role in 2008. It was called Video Treasures prior to 1995. Anchor Bay also had a Canadian branch by the name of HGV Video Productions.
Releases
Anchor Bay Entertainment also re-released the following:
Canadian releases
All Titles are VHS format
Thomas Gets Tricked (1995)
James Learns a Lesson (1995)
Trust Thomas (1995)
Thomas Gets Bumped (1995)
Thomas Percy and the Dragon (1995)
Daisy (1995)
Thomas and the Special Letter (1995)
James Goes Buzz Buzz (1996)
Percy's Ghostly Trick (1996)
Thomas' Christmas Party (1996)
Rusty to the Rescue (1996)
Thomas and His Friends Help Out (1996)
Gallant Old Engine (1996) (Light Blue Variant)
Sing Along Songs (1997)
Thomas Meets the Queen (1997)
Thomas and His Friends Get Along (1998)
Thomas Comes To Breakfast (1998)
Boxsets
Gallery
VHS Gallery
DVD Gallery
External link
Ad blocker interference detected!
Wikia is a free-to-use site that makes money from advertising. We have a modified experience for viewers using ad blockers

Wikia is not accessible if you've made further modifications. Remove the custom ad blocker rule(s) and the page will load as expected.