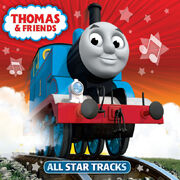 All Star Tracks is a CD featuring seventeen songs. It was released on December 13th, 2011. It was originally to be re-released in the UK under the title A Collection of Songs from Day of the Diesels and More! on 26 March 2012, but was pushed back until April 2nd, 2012.
Tracks
All Star Tracks
A Collection of Songs from Day of the Diesels and More!
Roll Call
Day of the Diesels
Hear the Engines Coming
Go, Go Thomas
Roll Along
Harold (Extended)
Old and New (Extended)
What Makes an Engine Happy (Extended)
Misty Island Rescue
The Fat Controller's Song
Sounds
Gordon
Doing it Right
Togetherness
Patience
Every Day's a Special Day
Trivia
Thomas, You're the Leader and Emily were going to be included on the All Star Tracks release, but were later removed for unknown reasons. However, Emily was restored on the UK release.
The CD even includes an extended version of "H is For Harold" for the first time.
Gallery
Ad blocker interference detected!
Wikia is a free-to-use site that makes money from advertising. We have a modified experience for viewers using ad blockers

Wikia is not accessible if you've made further modifications. Remove the custom ad blocker rule(s) and the page will load as expected.