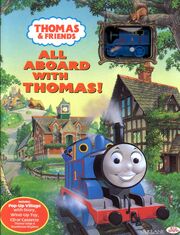 All Aboard with Thomas! is a pop-up book released by Ted Smart. It came with a wind-up toy.
Plot
Thomas is always coming and going on his branch line and stopping at various places. Thomas becomes bored of this and wants excitement, so he decides to go straight to the end of his branch without stopping. He gets his chance next morning and misses all of his stops. This angers the passengers and they complain to Sir Topham Hatt. Toby takes over Thomas' duties and Thomas is left in a siding. He then realises that stops are important to passengers.
Characters
Mr. Owen
Toby (mentioned)
Trivia
Gallery
Ad blocker interference detected!
Wikia is a free-to-use site that makes money from advertising. We have a modified experience for viewers using ad blockers

Wikia is not accessible if you've made further modifications. Remove the custom ad blocker rule(s) and the page will load as expected.