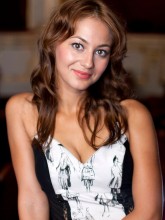 Alina Leonte is a Romanian actress from Oradea who works at The National Regina Maria Theatre (Teatrul de Stat) and also at BTI Studios which dubbed all Thomas & Friends productions in Romanian.
Voices
"Welcome to the Steamworks, my friend!"

This article is a stub. You can help by expanding it.