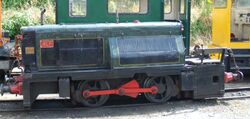 Alf
Number: 9
Primary function: Passenger service
Built: 1950
Builder: Hunslet Engine Co.
Designer: Andrew Barclay
Gauge: 2ft 3in (originally 2ft)
Configuration: 0-4-0DM
Driving wheel diameter: 2 ft
Alf is a narrow gauge diesel, built in 1950, working on the Talyllyn Railway. He uses parts of another engine stored at Brynglas.
Fred is presumed to be based on Alf.
Livery
Alf is painted in a dark evergreen colour.
Gallery
"Welcome to the Steamworks, my friend!"

This article is a stub. You can help by expanding it.