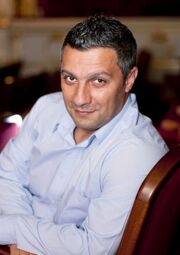 Alexandru Rusu (born on 22 January 1975) is a Romanian actor from Oradea who works at The National Regina Maria Theatre (Teatrul de Stat) and also at BTI Studios which dubbed all of the Thomas & Friends productions in Romanian. He is the current Romanian narrator. He narrated all of the seasons and specials, except for Season 8, Season 9 and Calling All Engines! which were narrated by Daniel Vulcu, as well as Season 12, Thomas and the Magic Railroad and Jack and the Sodor Construction Company, which never aired in Romania.
Ad blocker interference detected!
Wikia is a free-to-use site that makes money from advertising. We have a modified experience for viewers using ad blockers

Wikia is not accessible if you've made further modifications. Remove the custom ad blocker rule(s) and the page will load as expected.