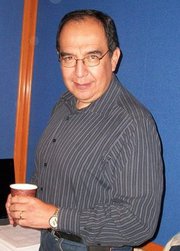 Alejandro Mayén (born March 29, 1960) is a Mexican voice actor and dubbing director who provides voices in the Latin American Spanish dub of Thomas & Friends.
He is best known for being the second voice of Peter Griffin in "Family Guy" from season 4 through 14, Carl Carlson and Comic Book Guy (from season 16) from "The Simpsons" during seasons 5 through 27, Grandpa Hiram Wolfe in "Rocko's Modern Life", Drew Pickles from "Rugrats", Krumm from "Aaahh!!! Real Monsters!", Sergeant Perez in "The Busy World of Richard Scarry", Papa Hare in "Peppa Pig", Ned Gerblansky in one episode of "South Park", various voices such as Mr. Horse in "Ren and Stimpy", Oscar and Archibaldo in "Elmo saves Christmas" and Ozu in "Kappa Mikey". Live action dubbing roles include Esgaroth Governor in "The Hobbit" film series, Uncle Taki in "My Big Fat Greek Wedding" film series and "Lloyd the Bartender" in The Shining, Detective Doyle in the "The Mask" and Grumpy Smurf in The Smurfs 2011 movie trailer.
Voices
Trivia
He, Radovan Vaculík, Ringo Starr, George Carlin, Carlos Enrique Bonilla, Masashi Ebara Jorge Ornelas, Enzo Avolio, Víctor Delgado, Bohuslav Kalva, Daiki Nakamura, Aku Laitinen, Marjolein Algera, Jukka Voutilaninen, Shinobu Adachi, Pasi Ruohonen, Loretta Santini, Olga Hnidey, Don Nemitz, Bin Shimada, Reinder van der Naalt, Ángel Amorós, Gerardo Reyero, Luis Alfonso Padilla, Octavio Rojas, Louise Raeder, Humberto Vélez, Hadar Shachaf Ma'ayan, Chie Kōjiro, Samuel Harjanne, Keiko Toda, Pierce Brosnan and Alec Baldwin all worked on "The Simpsons".
He, Óscar Gómez and Humberto Vélez have voiced Peter Griffin from "Family Guy". Adriana Casas, Luiz Carlos de Morais, Karina Altamirano, Ángel Amorós and Luis Alfonso Padilla have also worked on it.
He, along with José Luis Orozco, voiced characters together in "Ren and Stimpy". Nir Ron, Krzysztof Szczerbiński and Cezary Kwieciński have also worked on it.
Ad blocker interference detected!
Wikia is a free-to-use site that makes money from advertising. We have a modified experience for viewers using ad blockers

Wikia is not accessible if you've made further modifications. Remove the custom ad blocker rule(s) and the page will load as expected.