"I think the old Rev. Wilbert Awdry, the Thomas the Tank Engine Man, sums it up awfully well...It had to be something pulsing and alive....and you get the impression that it is something living that is on front of the train. That's what I think a lot of the enthusiasm comes from."
―Alan Pegler mentioning Wilbert Awdry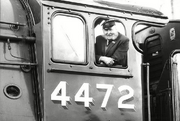 Alan Pegler (April 16th, 1920 – March 18th, 2012) was a British businessman, entrepreneur, railway preservationist, and actor. He was the Flying Scotsman's first owner (1963-1972) in preservation, the second locomotive to travel 100 mph.
In 1962, British Railways announced that they would scrap Flying Scotsman. It was proposed to save him by a group called "Save Our Scotsman", but they were unable to raise the required £3,000, the scrap value of the locomotive. Pegler stepped in and bought the locomotive outright, with the political support of Harold Wilson. He spent the next few years spending large amounts of money having the locomotive restored at Doncaster Works, and then persuaded the British Railways Board to let him run enthusiasts specials, then the only steam locomotive running on mainline British Railways.
In order to cheer Gordon up, the Fat Controller arranged with Pegler to reunite Flying Scotsman with his only remaining brother as Gordon had been depressed with the "end of steam" on British Railways.
When reunited, Flying Scotsman told Gordon that he had a rebuild, commenting that it made him look hideous. So his owner made Doncaster Works give him back his proper shape, and called him an extra special engine. Flying Scotsman was adapted with two tenders, due to the Other Railway not having any proper coal or water supplies. After their visit, Flying Scotsman left with his enthusiasts when the Fat Controller announced that steam engines would still be at work on his railway.
Flying Scotsman was eventually sold to the National Railway Museum.
Trivia
The Reverend W. Awdry acknowledged the help given by Flying Scotsman's owner and his assistant, Mr. E. Hoyle, in the preparation of Enterprising Engines.