Ad blocker interference detected!
Wikia is a free-to-use site that makes money from advertising. We have a modified experience for viewers using ad blockers

Wikia is not accessible if you've made further modifications. Remove the custom ad blocker rule(s) and the page will load as expected.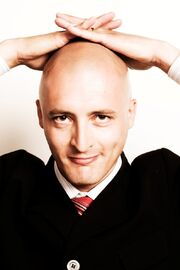 Aku Laitinen (born as Matti Laitinen) is a Finnish actor. He is best known for appearing in various Finnish TV dramas and comedies, but he is most famously known as the voice over of Robby Ray Stewart from "Hannah Montana" and Mr. Burns from "The Simpsons Movie".
He is the narrator of Thomas & Friends in Finland. He has also worked as a narrator for  "Spongebob Squarepants".
He can speak fluent English, Swedish and German.
Voices
Trivia
He, Marek Robaczewski, Lena Meieran, Sigbjørn Solheim and Samuel Harjanne all worked on "Hannah Montana".
He, Radovan Vaculík, Ringo Starr, Carlos Enrique Bonilla, Jorge Ornelas, Enzo Avolio, Víctor Delgado, Bohuslav Kalva, Daiki Nakamura, Marjolein Algera, Jukka Voutilaninen, Shinobu Adachi, Pasi Ruohonen, Loretta Santini, Olga Hnidey, Don Nemitz, Bin Shimada, Reinder van der Naalt, Ángel Amorós, Gerardo Reyero, Luis Alfonso Padilla, Octavio Rojas, Louise Raeder, Humberto Vélez, Hadar Shachaf Ma'ayan, Chie Kōjiro, Samuel Harjanne, Keiko Toda, Pierce Brosnan, George Carlin and Alec Baldwin all worked on "The Simpsons".
Gallery